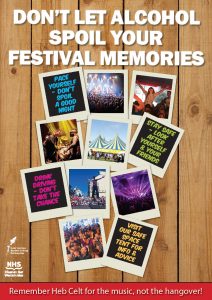 This is the message that Outer Hebrides Alcohol & Drug Partnership and NHS Western Isles are conveying to all festival goers at this year's Heb Celt Festival and EDF this year.
A Safe Space/Chill Out tent will be based within festival grounds to provide a rest and recovery area, or for those who need a safe place to chill and relax. The tent will be open throughout festival opening times and the team can be easily identified as they will be wearing blue or black tabards with 'Safe Space Team' written on the back.
The tent has been organised by OHADP, in conjunction with other agencies, and will be led by experienced and supportive staff who have been trained on how to best manage risks to festival goers.
For further information please contact Angela Grant, ADP Development Officer, Health Promotion Department, tel. 01851 762021 or email: angela.adp@nhs.net